For many, summer means days at the beach or vacations to fun destinations. For gardeners, Summer is when we really enjoy the fruits of our labor (some fruits more than others lol). Longer days and more sunshine mean growth and vibrancy in the garden. Summer is also a great season to sit back and watch the pollinators do their job. My kids think I'm crazy when I tell them that the bees, butterflies and birds are my coworkers. I talk to the bees when we are working on the same plant, allowing them their space and asking them to respect mine. Our retail staff love to watch the various butterflies finding their plants and planting their eggs. And Rusty, our resident hummingbird, does a great job keeping everything in order.
Part of our job is to educate and so this month we want to highlight the plants that we feel every gardener should incorporate to create a garden that is beautiful and sustainable to keep all pollinators happy. The best advice for creating a pollinator garden is to make sure you have a variety of flowering plants that are not treated with pesticides. Finding native plants will make it even more attractive to pollinators and means easier care for you.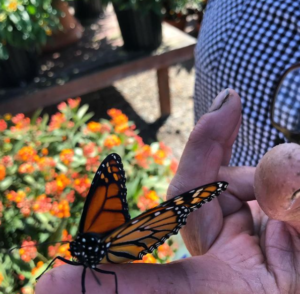 Here we provide our top 10 picks for attracting pollinators to your garden.
1. Achillea spp. 'Yarrow' – Achillea are fragrant perennials that are drought tolerant and attract butterflies, hummingbirds and bees. They like full sun and can tolerate dry conditions. Cutting back your Achillea after initial flowering will prevent them from actively reseeding and taking over.
2. Asclepias spp. 'Milkweed' – Most gardeners are very familiar with this pollinator plant. The plight of the monarch population has driven interest in providing Milkweed plants for the butterflies to lay their eggs. These are low maintenance, drought tolerant perennials. There has been some controversy about whether the tropical species A. curassavica does more harm than good but according to monarch expert Anurag Agrawal of Cornell University, "The key issue here is that when it is flowering 'out of season' this can be 'confusing' to monarchs… It is certainly an easy plant to grow and monarchs can make good use of it during the caterpillar season." He recommends cutting them back in the fall before the migratory season starts.
3. Buddleia spp. 'Butterfly Bush' – As the name suggests, butterflies love this plant! These evergreen perennials flower most of the year in Southern California. Larger species can grow up to 8' tall so know your space before planting. If space is an issue, look for the dwarf species that stay under 3'.
4. Calibrachoa spp. 'Million Bells' – Calibrachoa are a vibrant flowering perennial that we grow right here in our greenhouses. Calibrachoa are a great option for hanging baskets but can be used in the landscape with well draining soil. These are an excellent plant for attracting hummingbirds and come in a variety of colors.
5. Echinacea purpurea 'Coneflower' – These daisy-like flowers are hardy and thrive on neglect. They are well visited by butterflies, birds and bees alike. Bonus that they are native to North America which means they are an easy care option. Echinacea also make great cuttings for arrangements so deadhead early and often to keep them blooming throughout the season.
6. Gaura spp. 'Gaura' – Another North America native, Gaura is a stunning perennial that has a long flowering season. Sometimes called 'Whirling Butterflies' due to it's small, airy looking flowers. Gaura are easy to grow and like full sun and can handle some neglect. Attracts butterflies, birds and bees.
7. Lantana spp. 'Lantana' – Lantana is a vigorous evergreen shrub with petite tufts of flowers in a variety of vibrant colors. These are low growing and spreading which makes them a great ground cover for the landscape. Lantana likes full sun and is drought tolerant. Lantana are also salt tolerant and a great option in beach areas. Attracts butterflies and bees.
8. Roasmarinus offiinalis 'Rosemary' – If you have Rosemary growing in your garden then you know that bees love this plant! Super fragrant and attractive shrub or trailing forms that are used in many recipes and herbal remedies. Attractive to butterflies, birds and bees. Full sun and drought tolerant once established.
9. Salvia spp. 'Sage' – Salvia is absolutely one of our favorite plant recommendations. Salvias are super versatile and come in a variety of colors and forms. These hardy perennials are a must for every pollinator garden. Their fragrant flower spikes attract birds, bees and butterflies.
10. Verbena spp. 'Verbena' – Verbena is a superior nectar plant that attracts butterflies, hummingbirds, and bees. It is prized for its long fragrant flower spikes that also make great cut flowers. Verbena have a long bloom time and will give even more when deadheaded occasionally. Heat and drought tolerant.
Whether you are starting a new garden or just looking to add to your existing garden, we hope that you will consider some of these stunning flowering plants. We stock all of these options either seasonally or year round in our retail center so come on in and create your pollinator garden today.
Happy June!